Bearing Witness / Commemoration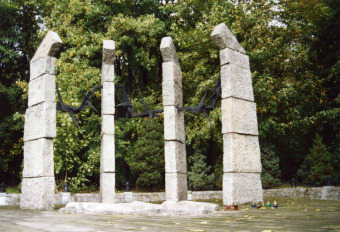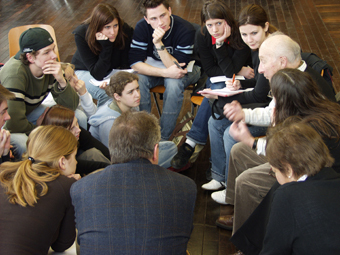 In the weeks and months following the liberation of the Buna/Monowitz concentration camp by the Red Army, the Polish inhabitants of Monowice returned to their village and rebuilt it on the site of the camp. Except for two memorial stones—in the town and at the plant—almost no traces of the crimes perpetrated by the SS and I.G. Farben against the prisoners are discernible today. Some can be found in photographs of the town. The installation of photo panels in the grounds surrounding the I.G. Farben Building shows, on another level, traces of a still-intact everyday life before the people pictured were deported to Auschwitz and made into forced laborers for I.G. Farben.
Some of the survivors of the Buna/Monowitz concentration camp started only a few years after the Holocaust to report on their experiences. These reports took the form of both witness testimonies in trials of Nazi war criminals and autobiographical accounts. Some of them, such as Primo Levi's books, had a decisive effect on the reception of the Holocaust in the fields of the humanities and cultural studies. Most survivors, however, decided only decades later to talk about their experiences. They participated in video interviews, some of which can be seen on this website. In addition to literature, former prisoners of the Buna/Monowitz concentration camp also chose painting as a mode of expression to bear witness to what they had undergone.
The history of the Buna/Monowitz concentration camp and of I.G. Farben, as well as the stories of individual concentration camp prisoners and British POWs, serve as the point of departure for a range of highly diverse films, novels, and theater texts.
In dealing with the history of the Buna/Monowitz concentration camp, commemoration of those who lost their lives in Monowitz is of major importance to us. Unfortunately, we know the names or even details of the life stories of only a small number of victims—and here this website requires continuous updating and your cooperation.