Hermann Schmitz (1881–1960)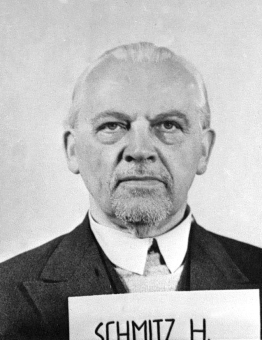 a After the war, the American investigators found in his documents "hundreds of letters sent to Hermann Schmitz, notes of congratulations and the like from various key Nazi figures such as Hitler, Goering, Goebbels, but none from Himmler, and carbon copies of his replies to the aforenamed Nazis."
(Lt. Col. Edmund Tilley, Report on the Finding of Evidence of Hermann Schmitz's Connection with and Knowledge of the Auschwitz Concentration Camp, April 11, 1947, NI-10927. Archive of the Fritz Bauer Institute, Subsequent Nuremberg Trials, Case VI. (Transl. KL))
Hermann Schmitz was born in Essen on January 1, 1881, the son of factory worker Diedrich Schmitz and his wife, Luise (née Wöhrmann). He attended the higher vocational school, and in 1898 he began a commercial apprenticeship at the Ahrenberg'sche Aktiengesellschaft für Bergbau und Hüttenbetrieb in Essen. In 1905, Hermann Schmitz enrolled in a commercial college in Frankfurt am Main, and after he found employment with the Metallurgische Gesellschaft, he became the adviser to supervisory board member Wilhelm Merton, who greatly furthered his career. In 1914, he served in World War I and was wounded; after his convalescence, in 1915, he was named Reich Commissioner for Chemical Production in the War Raw Materials Department.
In 1919, Schmitz took part in the peace negotiations at Versailles as an authority on nitrates and fertilizers; there he met Carl Bosch. On July 1, 1919, he joined BASF as Bosch's financial adviser. That same year, he was named a member of the managing board, where he headed the Foreign Department and was promoted to CFO. He continued in that position for the entire concern after the founding of I.G. Farben in 1925. In the 1920s, his responsibilities included contacts between the I.G. and Standard Oil. As a financial and economic adviser to various Weimar governments, he exercised his influence for the benefit of I.G. Farben.
Beginning in 1933, Hermann Schmitz served as a member of the Reichstag, representing the NSDAP. In 1935, after the death of Carl Duisberg, he succeeded him as CEO of the I.G. In 1938, he was named a "military economy leader" (Wehrwirtschaftsführer). On his sixtieth birthday, Adolf Hitler gave him a portrait of the Führer with a personal dedication. After the war ended, he was arrested by the U.S. Army a and sentenced in the I.G. Farben Trial at Nuremberg to four years in prison for "plunder and spoliation." After his early release in 1950, he became a member of the supervisory board of Deutsche Bank in Berlin and honorary chairman of the supervisory board of Rheinische Stahlwerke AG. Hermann Schmitz died in Heidelberg on October 8, 1960.
(SP; transl. KL)