Mémorial aux déportés du camps de Auschwitz III Buna Monowitz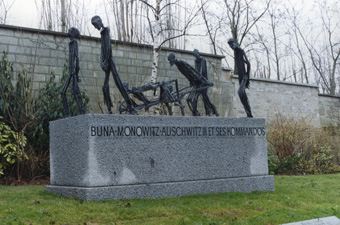 In the cemetery of Père Lachaise in Paris, there is a sculpture that is dedicated to those who were deported to Auschwitz and used as forced labor for I.G. Farben in Buna/Monowitz and the subcamps. The association of French survivors of the Buna/Monowitz concentration camp, L'Amicale des anciens déportés de Buna-Monowitz-Auschwitz III, was responsible for erecting the memorial, which was designed by the French artist TIM (Louis Mitelberg). It was dedicated on February 4, 1993. The inscription reads as follows:
De 1941 à 1945 AUSCHWITZ III comptait 39 camps nazis, tous exploités par le trust allemand de la chimie I.G. Farbenindustrie: Buna-Monowitz, Blechhammer, Gleiwitz I, II, III, IV, Rajko, Fürstengrube, Günthergrube, Jawischowitz, Jaworzno, Feudenstadt… 30.000 déportés dont 3.500 arrêtés en France, Juifs la plupart, y moururent de faim, de froid, sous les coups et d'épuisement, ou désignés par les S.S. lors des selections, ils furent exterminés dans les chambers à gaz d'Auschwitz – Birkenau.
N'OUBLIONS JAMAIS!
(DOP/SP; transl. KL)