Protests against I.G. Farben in Liquidation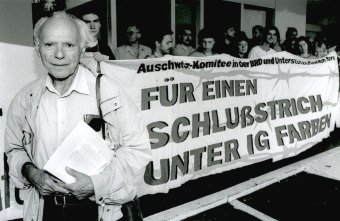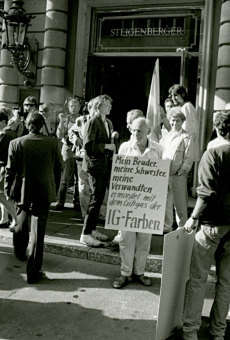 From the 1980s forward I.G. Farben i.L. was often confronted with protests by a coalition of Holocaust survivors, critical shareholders, trade unions and anti-fascist organizations. The protests caused logistical problems for the corporation in 1997 and 1998, as venues in Frankfurt am Main became unwilling to rent a hall for the annual conference. These difficulties continued in the following years, although a company called Frankfurter Saalbau GmbH proved willing to help until 2003, the year I.G. Farben i.L. declared insolvency. Because of the protests the annual conferences were often afforded police protection. The protest coalition included local and nationwide anti-fascist initiatives, a group called "Critical Shareholders of I.G. Farben," forced labor survivors like Hans Frankenthal and former fighters in the anti-fascist resistance like Peter Gingold. Nevertheless, the I.G. Farben i.L. shareholders and liquidation officers made no move whatsoever to meet the demand that the company be dissolved and the proceeds paid out to the former forced laborers of I.G. Farbenindustrie. Demonstrators at the annual conferences were also met with a number of anti-Semitic outbursts.
In an effort to pacify the protests, the two I.G. Farben i.L. liquidation officers, Bundestag member Otto Bernhardt and the attorney Volker Pollehn, both of the Christian Democratic Union (CDU), advanced a motion at the annual conference of August 18, 1999, to endow a foundation with 3 million DM, with interest from the endowment paid to former forced laborers. Hans Frankenthal, who had survived the Buna/Monowitz concentration camp, condemned the proposal as scandalous: "According to [I.G. Farben i.L.] statements, there are 450,000 claims pending. This is not a serious proposal for restitution, in the end there won't be enough left to buy a stamp for each one."[1]
When the foundation known as Stiftung "I.G. Farbenindustrie" was finally created in 2003, its endowment was just 500,000 DM (255,000 euros). Bernhardt and Pollehn served as the foundation's board. Even as they argued that I.G. Farben i.L. was still the successor organization to I.G. Farbenindustrie AG and therefore entitled to I.G.'s holdings in Switzerland, the foundation served as the legal device for blocking the use of the Swiss assets in providing restitutions to the surviving former forced laborers. Henry Matthews, secretary of the critical shareholders' group, declared that I.G. Farben i.L. shareholders were "exploiting the victims of the erstwhile Nazi company to continue filling their own pockets."[2] With the transfer of wealth out of I.G. Farben i.L. in the 1990s and its resulting insolvency in 2003, the former forced laborers saw themselves defrauded out of their claims for restitution from the company's remaining assets. All protests had in the end failed.
(MN/PEH; transl. NL)