What Was I.G. Auschwitz Meant to Produce?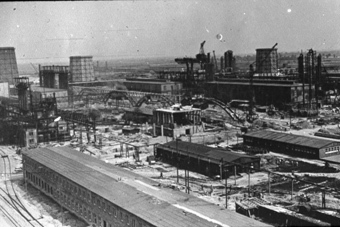 The I.G. Farben plant founded at Auschwitz in April 1940 was more than a factory for making synthetic rubber (Buna), as the common name for the plant—Buna IV—also suggests. In fact, I.G. Auschwitz was designed from the very first to be an extremely complex chemical factory, producing, besides Buna, high-performance fuels (including aviation gasoline and fuel oil for naval use), various plastics, synthetic fibers, stabilizing agents, resins, methanol, nitrogen, and pharmaceuticals. In addition to the Buna rubber and fuel plant, I.G. Farben, along with the Army High Command (Oberkommando des Heeres), had been planning since summer 1941 to build a third, state-financed, plant complex: the so-called Montan-Anlage. It was intended to supply precursor agents for chemical weapons to the nerve gas plant built by I.G. Farben in Dyhernfurth near Breslau, which started producing the nerve agent tabun in May 1942.
The Buna Plant:
At the first construction conference for I.G. Auschwitz in late March 1941, the main lines of production planned for the new plant were debated. I.G. Auschwitz was to make an annual total of 30,000 tons of Buna-S (S stands for the compound styrene, part of the copolymer formed with butadiene). On a base of carbon and lime, the four-step procedure was to be used at first, with a partial switch to the newer Reppe process at a later time. The styrene used for polymerization thus was to be replaced by another polymerization component, such as isoprene. This change in manufacturing process, scheduled from the very outset, must be seen against the backdrop of the dual technological concept of I.G. Auschwitz: On the one hand, the plant was meant to satisfy the military demand for fuels and Buna, but on the other, it was also supposed to keep postwar prospects open, to enable the facilities at Auschwitz to make a rapid switch to high-pressure Reppe chemistry (acetylene and ethylene chemistry) and thus to the promising manufacture of plastics. Otto Ambros, a member of the I.G. Farben executive board, therefore viewed the Buna plants as "the starting point for aldehyde chemistry, for solvents, plastics, resins, or softening agents."[1]
From 1936 to 1943, the sales of I.G. Farben in the area of plastics rose from 5 million to 122.6 million RM, while the return on sales almost tripled in the first three war years alone, going from 7.4 million to 20.6 million RM. With the construction of I.G. Auschwitz, production of thermoplastic synthetics (polyamides)—used as synthetic textile fibers, among other things—was slated to begin. At the same time, I.G. Auschwitz was supposed to produce "a new series of binding substances on a synthetic base" under the so-called Lack Plan for the wartime economy submitted by the Reich Office for Economic Expansion as part of the Four Year Plan.[2]
The Fuel Plant:
The Fürstengrube coal mine taken over by I.G. Farben was intended to serve as a raw-materials and energy basis for fuel production, as well as Buna production, by I.G. Auschwitz. Plans called for expanding the Fürstengrube from an annual production capacity of 550,000 tons of bituminous coal in 1941 to 1.2 million tons by 1943.[3] Of that amount, 650,000 tons were to be used in a carbonizing plant for low-temperature coke and 550,000 tons for energy generation. The fuel plant of I.G. Auschwitz was supposed to produce, during the war, an annual total of 75,000 tons of gasoline made from hard coal by means of a modified Fischer-Tropsch process (conversion of synthesis gas into liquid hydrocarbons). In peacetime, this facility would switch to production of a fuel called Synol. The bitumen generated as a by-product was to be processed in a carbonizing plant to obtain 40,000 to 50,000 tons of fuel oil annually and delivered to the German Navy (Kriegsmarine). In three stages of expansion, the production of fuel, alcohols, and olefins (alkenes) was envisaged, as well as the making of methanol, ethanol, propanol, and isobutanol through isobutyl-oil synthesis.[4] Because of supply bottlenecks and labor shortages, the construction work on the fuel plant lagged behind schedule, and the start of fuel production, first planned for 1943, had to be postponed repeatedly. Finally scheduled to go onstream at Auschwitz in 1945, the plant was expected to produce 2,100 tons of the high-performance fuel tanol each month, as well as 900 tons of gasoline for automobiles.[5]
Only methanol production was begun on a large industrial scale in Auschwitz, in October 1943. Methanol had various applications: as a fuel additive, an important primary product of organic chemistry, a solvent, a stripper, and a methylation agent; it also was used in various ways for catalytic oxidation in the manufacture of plastics. According to a breakdown from the Four Year Plan office of GBChem, in 1944 alone, the last year of the war, I.G. Auschwitz produced a total of 28,998 tons of methanol, accounting for about 15 percent of Germany's production for that year. The data in this breakdown cover methanol production in 1944 in the plants at Leuna, Waldenburg, Oppau, Heydebreck, and Auschwitz, with a total production of 186,416 tons.[6] Thus the making of methanol by I.G. Auschwitz was of considerable importance to the German war economy, whose fuel production recorded substantial losses due to the strategic airstrikes of the Allies in 1943/44, especially in western Germany.
The Montan-Anlage: Precursor Agents for Chemical Weapons
After the Wehrmacht's invasion of the Soviet Union in summer 1941, there was an increase in the requirements of the German army and air force for glycol, a key precursor in the making of explosives and chemical warfare agents. Since July 1941, I.G. Farben had been negotiating with the Army High Command to build a state-funded Montan-Anlage in Auschwitz. The scheduled "channel widening for diglycol" at I.G. Auschwitz was meant to produce 30,000 tons of chlorine, 6,000 tons of glycol, and 3,000 tons of diglycol on an annual basis, largely intended for use in processing, to make tabun at the nerve-gas factory in Dyhernfurth.
(FS; transl. KL)