Arthur von Weinberg (1860–1943)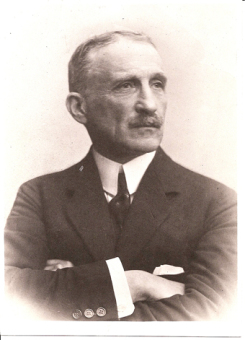 Arthur Weinberg, born in Frankfurt am Main in 1860, was the son of assimilated Jewish parents, industrialist Bernhard Weinberg and his wife, Pauline (née Gans), and was baptized as a Protestant. In 1877, he began his studies of physics, chemistry, mathematics, and classical philology at the Technical University in Munich and the University of Strasbourg. In addition, he was considered a gifted violinist and organist. In 1882, he received his doctorate, specializing in the chemistry of dyes, and the following year he joined his brother Carl Weinberg at Farbenfabrik Leopold Cassella & Co. GmbH, run by their uncle, Leo Gans. In the course of his work there, Arthur Weinberg discovered various methods for making synthetic dyes. The plant, which he managed jointly with his brother Carl, was regarded as the world's largest manufacturer of synthetic azo dyes around the turn of the century.
In 1908, along with his brother Carl, he was ennobled by Emperor Wilhelm II. In 1909, Arthur von Weinberg married Willemine Peschel, a Dutch widow, and adopted her daughters, Marie Elisabeth and Charlotte. In 1913, he was made a Prussian privy councilor (Geheimer Regierungsrat). Though already 54 years old, he served in World War I as an army reserve officer, holding the rank of Major der Reserve. In 1916, he became head of the Wartime Chemistry and Labor Department in the Prussian War Ministry. In 1918, he was involved in the founding of the Deutsche Gesellschaft für Schädlingsbekämpfung (DEGESCH, German Corporation for Pest Control).
In 1925, after the founding of I.G. Farben, into which the Cassella firm was absorbed, Arthur von Weinberg became a member of the supervisory board and the managing board, with responsibility for science, patents, and manufacture of dyes. He provided financial support to numerous cultural and sports-related institutions, including the Städelsches Kunstinstitut and the University of Frankfurt, founded in 1914. The university granted him the title of honorary senator, Ehrensenator. On his seventieth birthday, in 1930, the City of Frankfurt am Main named him an honored citizen.
The National Socialist state persecuted von Weinberg as a Jew, and in 1933 his status as honored citizen (Ehrenbürgerwürde) was revoked. In 1938, the anti-Semitic legislation forced him to resign from all his I.G. positions, and in November 1938 he was forced to sell his mansion to the City of Frankfurt am Main at less than fair value. He moved to the Ammersee, southwest of Munich, to be near his daughters, and there he was arrested on June 2, 1942, and deported to Theresienstadt. The effort made by two former colleagues from the managing board, Carl Krauch and Hermann Schmitz, to obtain his release came too late: Arthur von Weinberg died in Theresienstadt on March 2, 1943, at the age of 82, from the results of a gallbladder operation.
(SP; transl. KL)