Carl von Weinberg (1861–1943)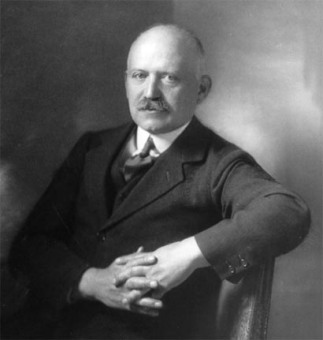 Carl Weinberg, born in 1861, was the second son of assimilated Jewish parents, the industrialist Bernhard Weinberg and his wife, Pauline (née Gans), and was baptized as a Protestant. After a business education, he served in the German Army in 1881 as a one-year volunteer. At the age of 21, Carl Weinberg became a partner in Farbenfabrik Leopold Cassella & Co. GmbH, where he established the Pharmaceutical Department in 1900. In 1898, with his wife, Mary, he moved into the Villa Waldfried in Schwanheim, where he built up a significant art collection over the years.
Together with his brother, Arthur von Weinberg, he was made a member of the Prussian nobility in 1908. In 1919, Carl von Weinberg was a member of the German delegation to the Versailles peace negotiations, and in 1924 he took part in the London negotiations concerning German reparations (Dawes Plan). After the founding of I.G. Farben in 1925, he became a supervisory board member the following year, with responsibility for sales and reparations negotiations. Carl von Weinberg was an active benefactor and patron of the arts for many years in Frankfurt am Main, and in 1928 he was awarded the city's Silver Plaque, as well as an honorary doctorate from the University of Frankfurt am Main.
He left the managing board in 1936, and in 1938, classified as a "Jew," he had to resign from all his positions at I.G. Farben. In December of that year, he was forced to surrender his art collection to the City of Frankfurt am Main at far less than fair value. In 1939, with the help of friends, he fled the country and went into exile in Italy, living with his sister Maria. There he received a financial subsidy (80,000 RM per year) through a firm in Milan that was controlled by I.G. Farben. He died in Rome on March 14, 1943.
(SP; transl. KL)