David Rosenbaum (today called Walter Rawa, *1926)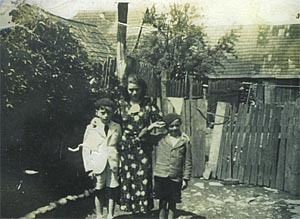 Our father, David Rosenbaum, was born in Lukov, Slovakia, on August 10, 1926. He was raised in an orthodox Jewish home with his parents, Dori and Leon, and his four brothers. He had two older brothers named Tuli and Moshe. Tuli, the oldest, was born in 1922, and Moshe was born in 1924. The two youngest brothers were Avraham, who was born in 1935 and Shaul, who was born in 1938. They were very poor, but yet a very loving and close family, who were content with their life. The family moved to a bigger town called Starulobovnya in 1932.
The first night of Passover 1942, when Jewish families gather for their traditional dinner, was the last night that my father's entire family was together. The next morning, the Nazi's ordered that all Jewish men over the age of 17 must gather at a local synagogue for relocation to the East. David's two older brothers and his father were sent to Auschwitz that day where they worked as slaves until they deteriorated from starvation, disease and beatings. Then they were killed in the gas chambers. All three were killed within four months of their arrival at Auschwitz.
In June of 1942, the rest of the Jewish population of Starulobovnya was deported to concentration camps. David was on a train with his mother and two younger brothers when he was told to quickly exit with all children over the age of sixteen. There was so much chaos on the train that he did not even get to say goodbye to his mother and brothers. This was the last time that he ever saw them. At this point he was in the concentration camp Majdanek.
The train carrying the rest of his family continued on to Auschwitz where they were immediately killed in the gas chambers. While David was in Majdanek he suffered tremendously. The camp was extremely primitive and he was beaten, starved and almost worked to death. After one month, David was shipped to Auschwitz, where he met Moshe's best friend, Marcel Keller, who informed him that he witnessed the death of his older brothers and father.
At this point, David was beyond devastated but he wasn't going to allow the Nazis to break his will. He was determined to survive! With lots of luck and a strong will, he survived two and a half years of hard labour, disease, torture and endured many more unspeakable hardships. When the SS evacuated Auschwitz, he hid under the steps of the barracks together with five other men and was able to avoid going on the death march. The Russians liberated him on January 27th, 1945.
After the war he remained in Poland, where he studied at Krakow University and obtained his degree in Mechanical Engineering. Due to the virulent Anti-Semitism that still existed after the war, he decided to change his name to Wladyslaw Rawa.
In 1956 he was allowed to immigrate to Israel. He did not know anyone, and he had a very hard time with the language and the extreme heat. His dream was to go to Canada, where his sole living relative resided. His mother's brother, Peter Bornfreund, had escaped before the war with false papers as a Christian, and had immigrated to Canada.
David got his necessary documents and was ready to go to Canada. But there was one slight problem. He had met a beautiful girl named Mina, whom he wanted to marry, and she loved Israel. This did not deter David, who told Mina to come with him to Canada, a great land with great opportunities. He married the love of his life on December 18, 1962 and immigrated to Canada in October 1963.
During his years in Canada, he slowly built a modest life for his family of four. He had two children who were both born in Canada. His daughter's name is Dori and she was born on May 4,1966 and his son is named Leon and was born on July 28,1967. They were both named in loving memory of his parents. He now has six grandchildren and still resides in Toronto, Canada with his wife, Mina.
(Dori Ekstein / Leon Rawa)