The Documentary Film
I Was a Slave Labourer

(UK, 1999, directed by Luke Holland)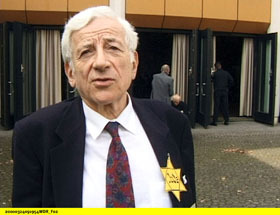 "We are not going to ask for charity – we are telling them, what to do."
(Rudy Kennedy)
Over a three-year period, Luke Holland documented the activities of Buna/Monowitz survivor Rudy Kennedy. Kennedy is involved in seeking an individual apology from the German government and the successor firms, along with financial compensation for the slave/forced labor he and others were required to perform for German industry during World War II.
After German reunification, the legal conditions were present for holding the German government, as well as the successor firms, responsible for the slave/forced labor done under National Socialism. The film sheds light on the origin of the international campaign for restitution and shows Kennedy's trips to various international conferences in England, the United States, France, and Germany, his appearances at the protests against the annual stockholders' meetings of I.G. Farbenindustrie AG in Liquidation in 1996 und 1997, and his understanding with other survivors of the Buna/Monowitz concentration camp at a survivors' meeting in Frankfurt am Main in 1998. The film touches upon the search for a legal strategy, the decision to file an international class action in the United States, and the lawyers' negotiation processes.
The film also deals with the resistance to the compensation demand that Rudy Kennedy and other activists had to combat, and with their modest successes. Only in February 1999, after the filing of class actions in March and June 1998, did the German Federal Government proceed with setting up the "Remembrance, Responsibility and Future" foundation for restitution and compensation (endowed with a fraction of the requested sum): not least in order to secure legal certainty for the German successor firms.
Wolfgang Trautwein, the German ambassador in London, explains that assertion of claims after more than 50 years is a unique occurrence; everywhere else, he says, such claims would be time-barred. The I.G. Farben stockholders deplore the crimes but reject all responsibility and payment of damages. I.G. Farben in Liquidation will not even allow Rudy Kennedy into its offices, and at the successor firm BASF, he is put out on his ear shortly after the conversation has begun. At other meetings, Luke Holland is asked to turn off the camera after Rudy Kennedy has asked critical questions.
I Was a Slave Labourer reveals, from a survivor's personal perspective, the meaning of the struggle to obtain compensation and an apology for the injustice that was committed. It shows the dismissive reactions of German economic and political circles to the Nazis' victims, and the constant attempts to force the survivors into the position of supplicants. Rudy Kennedy's direct questions and Luke Holland's montage of the material clearly bring out the attitude of rejection on the part of the Germans.
The film begins with one of the few color shots taken of the construction site in Buna/Monowitz.
(SD; transl. KL)