The Documentary Film
Monowitz. Ein Tatort

(Germany/Poland/Italy, 2002, directed by Alfred Jungraithmayr)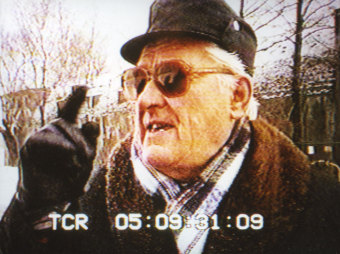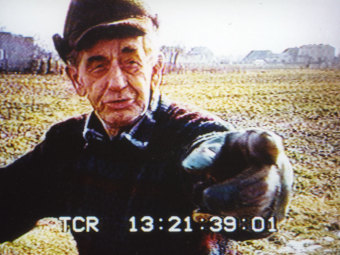 Monowitz. Ein Tatort (Monowitz: A Crime Scene) is a documentary film made by Alfred Jungraithmayr in 2002. It describes the planning and building of the I.G. Farben plant at Monowitz, I.G. Auschwitz, and the use of forced laborers and concentration camp prisoners there. Between 1941 and 1945, thousands of people died at I.G. Farben's company-owned construction site and the concentration camp dedicated to it, Buna/Monowitz.
Various leads are followed in the film, most tending toward the I.G. Farben concern and those responsible for it. The "crime scene of Monowitz" recedes into the background, and the "crimes," too, are treated only superficially in the film or assumed to be already known. Two strategies of crime-scene investigation dominate the film. First, there are the recollections of Dr. Hans Deichmann, the former "representative for Italian workers in Upper Silesia for plant construction at Monowitz" under Carl Krauch, the "chief representative for special issues of chemical production." Based on his story, "the trail leading to Monowitz is picked up," in the words of the film. Deichmann steers the attention to Italian civilian workers who worked on building the plant in Monowitz. Deichmann himself was responsible for recruiting workers in Italy, but as of 1943 he cultivated contacts with the Italian resistance and tried, as he says in the film, "to throw a few monkey wrenches in the works, in the wheelworks, of the Nazi régime."
In addition, various people speak in short interview clips: a former Italian "foreign worker," Giovanni Busicchia; a Buna/Monowitz concentration camp survivor, Adam König; and Polish villagers who still live near the former I.G. Farben plant or in the village of Monowice and had worked there between 1941 and 1945. The various statements address many specific aspects of camp work and of the I.G. Farben concern, all of which lead in different directions and are not further pursued. In addition, photos, maps, and plans that are faded in take attention away from the "crime scene of Monowitz" and place it on the ones pulling the strings and the ones in charge, without further specifying the crimes and occurrences.
The second strategy is on-site investigation in Monowice. As the film's title hints, the "crime scene of Monowitz," a place of the past and the past events, is supposed to be examined, and the crime is supposed to be solved. "The same place, the same time, the same sky." The narrator uses these words in the film to establish a connection between past and present. At the scene, only older people are asked about their memories of earlier days; young ones are never heard from. Though that creates the impression that the "Monowitz" of the past is the topic, the stories and pictures of the present convey an unclear image of this past. Apart from a few small remnants, the former crime scene no longer can be seen.
(BG; transl. KL)