The Wall Inscription in the Pavilion of the Norbert Wollheim Memorial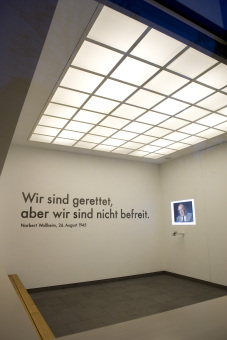 a "I ask you a great favor for myself and the people here. Please neglect no opportunity to inform the people there to encourage or rather to arouse them. Two weeks ago we had a mass meeting in Belsen under the slogan: "Six million gassed Jews – World, where is your conscience?" This slogan is characteristic of the situation in which we are now living. We have been saved, but we are not liberated. We know that there are a number of Jews – we have met them there – who are so deeply moved by all they have seen and experienced that they will do everything in their power to make our voice heard. Help us with that. Help us to make it clear to everybody that we are waiting for many things which so far have not been realized. What do gifts of food rations or cigarettes or chocolate mean to us today! Certainly a valuable aid for which we are thankful, but the important thing is our desire that at least a place be found for us. It is this, which, in the last analysis, has given us the energy to pull through. Should it not be possible to find room at least for these 60,000 survivors away from this blood-drenched soil?"
(Norbert Wollheim, Letter to Hermann E. Simon, August 26, 1945 (English translation). USHMM, Wollheim Literary Estate, Box 9, Correspondence File, Simon Letters, pp. 1–2.)
b "3. When, with the 8th Army Infantry Division and one of its infantry regiments, I was stationed in a place called Alt-Zachun, near Schwerin in Mecklenburg, Germany. During one of my visits with the Counter-Intelligence Section attached to the 8th Division, I met Norbert Wollheim who was then in Schwerin, and still in concentration camp clothing. He lived in a furnished room, together with two other former inmates of the Auschwitz Concentration Camp, a certain Henry Sprung and Albert Kimmelstiel. Both Sprung and Kimmelstiel have since immigrated to the United States, and are residing in the United States.
[…]
5. Together with other members of my military unit, I assisted Norbert Wollheim and a number of other former inmates of concentration camps in moving from Schwerin to Lübeck to allow them to take up residence in the British Zone of Occupation before the American and British units evacuated Mecklenburg which was to become part of the Russian Zone of Occupation. I did this because Norbert Wollheim had already decided to leave Germany and to immigrate either to Israel or to the United States.
6. During the time the 8th Infantry Division was stationed in Schwerin and its neighborhood, Norbert Wollheim assisted the work of the Intelligence Unit of the division.
7. From my own experience in May 1945, I know that Norbert Wollheim was well known to other former inmates of concentration camps who had escaped to the American-British Zones of Occupation. He was held in high regard by these other inmates because he was always anxious to help to improve the difficult situation of these displaced persons."
(Hermann E. Simon, Affidavit for Norbert Wollheim, July 13, 1950. USHMM, Wollheim Literary Estate, Box 9, Correspondence File, Simon Letters.)
"We have been saved, but we are not liberated."
Norbert Wollheim, August 26, 1945
This sentence comes from a letter from Norbert Wollheim to Hermann E. Simon, written in Lübeck, where Wollheim lived between May 1945 and September 1951. The two had become acquainted shortly after Wollheim's liberation in Schwerin; Simon, a staff sergeant in the U.S. Army, helped Wollheim and his fellow former inmates get to Lübeck in the British zone and obtain an apartment there. In the following weeks, he continued to help them return to a normal way of life. In July 1945, Hermann Simon was discharged from the army and went back to New York, where he practiced law. With his letter dated August 26, 1945, Wollheim resumed contact with Simon for the first time since the latter's departure from Germany. Wollheim described in detail the situation of the survivors in the British Zone of Occupation, especially in the Belsen Displaced Persons (DP) camp, which he had visited only a few days before to attend a meeting of the Committee of Liberated Jews. Advocacy for the DPs in the British zone was to be the focus of Wollheim's political and social work in the next few years.
In his letter, he appeals to Hermann Simon not to forget the survivors in Germany, and to campaign in Jewish circles in New York for assistance for the DPs, regarding both their longed-for emigration from Germany and their living conditions. a With feeling, he describes the material and emotional situation of the survivors and their physical and psychological hardships, which persisted even after liberation, summing it all up in this sentence: "We have been saved, but we are not liberated."
For the survivors of the concentration camps, liberation by the Allies meant that their lives were saved, and that they were spared the daily threat of death and the capricious cruelty of the murderers, but the experience of these crimes had become so deeply embedded in the survivors' memories, had marked them so profoundly, that true liberation from them was no longer possible. Again and again, survivors of the concentration and extermination camps have told how they were haunted by their memories of the camp experience and troubled by their lasting injuries in the postwar years, and how these painful things continued to affect their subsequent lives, as they could find no way to free themselves of them. Such matters are mentioned in the video interviews with survivors of the Buna/Monowitz concentration camp as well.
During the six years Norbert Wollheim remained in Germany after writing that letter, he tried his best to assist the survivors, at least with their material concerns. Even after his emigration to the United States in September 1951, he continued to campaign for the rights of the survivors, in particular for their right to compensation. A permanent bond of friendship was formed with Hermann E. Simon, as the other letters in Wollheim's literary estate demonstrate. Simon helped Wollheim emigrate to the United States by providing an affidavit, in which he described their meeting in Schwerin. b
(MN; transl. KL)