Elie Wiesel (*1928)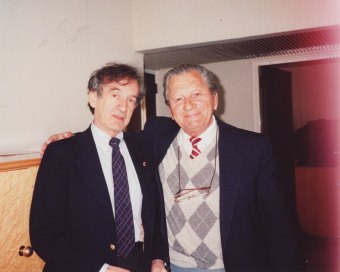 a "'Tomorrow, right after nightfall, the camp will start on its march. Block by block. The sick can remain in the infirmary. They will not be evacuated.' That news made us wonder. Were the SS really going to leave hundreds of prisoners behind in the infirmaries, pending the arrival of their liberators? Were they really going to allow Jews to hear the clock strike twelve? Of course not. 'All the patients will be finished off on the spot,' said the faceless one. 'And in one last swoop, thrown into the furnaces.' 'Surely the camp will be mined,' said another. 'Right after the evacuation, it will all blow up.' As for me, I was thinking not about death but about not wanting to be separated from my father. We had already suffered so much, endured so much together. This was not the moment to separate. I ran outside to look for him. The snow was piled high, the blocks' windows veiled in frost. Holding a shoe in my hand, for I could not put it on my right foot, I ran, feeling neither pain nor cold. 'What are we going to do?' My father didn't answer. 'What are we going to do?' He was lost in thought. The choice was in our hands. For once. We could decide our fate for ourselves. To stay, both of us, in the infirmary, where, thanks to my doctor, he could enter as either a patient or a medic. 'Well, Father, what do we do?' He was silent. 'Let's be evacuated with the others,' I said. He didn't answer. He was looking at my foot. 'You think you'll be able to walk?' 'Yes, I think so.' 'Let's hope we don't regret it, Eliezer.'"
(Elie Wiesel: Night (New York: Hill and Wang, 2006), pp. 81–82.)
b
"
There is reason to be ashamed. The leaders of the free world, Jews and non-Jews alike, were concerned exclusively with the situation at the front. The overall global war and what would happen afterward. For them, European Jews,
though still alive,
no longer were part of the problem. When, soon after victory, the survivors discovered the betrayal, there were those—and among them, adolescents—who deliberately let themselves slide into death. They had no desire to be a part of a society capable of so much hypocrisy.
"
(Elie Wiesel:
"
A Plea for the Survivors.
"
In:
A Jew Today
(New York: Random House, 1978), pp. 185–208, here p. 193.)
c "The Foundation's mission, rooted in the memory of the Holocaust, is to combat indifference, intolerance and injustice through international dialogue and youth-focused programs that promote acceptance, understanding and equality."
(http://www.eliewieselfoundation.org/aboutus.aspx (accessed on September 9, 2008).)
d "To forget nothing, to efface nothing: that is the obsession of survivors; to plead for the dead, to defend their memory and honor. So much has been said about them. They have been subjected to countless analyses, dissected, exhibited, and made 'presentable' for theological, scientific, political, and commercial purposes. Treated like objects, they have been insulted, belittled, and betrayed. To resist this tide survivors—and they are becoming ever fewer—have only words, poor, ineffectual words, with which to defend the dead. So some of us weave these words into tales, stories, and pleas for memory and decency. It is all we can do, for the living, and for the dead."
(Elie Wiesel: All Rivers Run to the Sea. Memoirs, vol. One 1928–1969 (London: HarperCollins, 1996), p. 380.)
"For me literature must have an ethical dimension. The aim of the literature I call testimony is to disturb. I disturb the believer because I dare to put questions to God, the source of all faith. I disturb the miscreant because, despite my doubts and questions, I refuse to break with the religious and mystical universe that has shaped my own. Most of all, I disturb those who are comfortably settled within a system—be it political, psychological, or theological. If I have learned anything in my life, it is to distrust intellectual comfort."[1]
Elie (Eliezer) Wiesel, born in Sighet, Romania, on September 30, 1928, was the only son of Shlomo and Sarah (née Feig) Wiesel. He had two older sisters, Hilda and Beatrice (Bea), and one younger one, Tzipora. His grandfather, Reb Dodye Feig, was a deeply religious Hasid who had a powerful influence on young Elie Wiesel. With local teachers, he studied the Talmud and, against his father's wishes, Kabbalah as well. Nonetheless, Shlomo Wiesel, a cosmopolitan businessman, insisted that Elie also learn modern Hebrew and read literature. In 1940, Sighet was returned to Hungary, and in spring 1944 the German Wehrmacht invaded the country. The Wiesel family was forced to move into the ghetto in Sighet. In mid-May 1944, the Jewish community of Sighet was deported to Auschwitz. After arrival there, the SS separated Shlomo and Elie Wiesel from the women. Elie's mother, Sarah Wiesel, and his youngest sister, Tzipora, were murdered in Birkenau immediately after their arrival. Because Elie claimed to be older than his true age and Shlomo Wiesel younger, they were placed in quarantine in the Auschwitz main camp for three weeks and then assigned to the Buna/Monowitz concentration camp to do forced labor for I.G. Farben.
The father and son stayed together the entire time and tried to provide mutual support. They had to do heavy labor, including loading engines and rocks. The brutality and daily killings in Buna/Monowitz and at the I.G. Auschwitz construction site left Elie Wiesel's religious faith profoundly shaken, and this is expressed in his subsequent accounts of life in the camp. As the Red Army approached Auschwitz in January 1945, the SS decided to evacuate the camp. At that time, Elie Wiesel was in the infirmary because of a foot injury; his contacts had enabled him to smuggle his father in there as well. As they assumed, however, that the SS would kill everyone who was left behind, they decided to join the march with the other prisoners. a The death march took them first to Gleiwitz and then to the Buchenwald concentration camp. Shlomo Wiesel, his strength at an end, developed dysentery and died on January 29, 1945, in Buchenwald. Elie Wiesel was freed in Buchenwald by American troops on April 11, 1945.
With other Jewish youths, he was placed in orphanages, first in Écouis, then in Ambloy, and finally in Versailles. In France, he learned that his two older sisters, Hilda and Bea, also had survived. Elie Wiesel started learning French, the language in which he continues to this day to write. He studied at the Sorbonne and began working as a journalist, first for the Irgun, and then for Yediot Ahronot for many years. Still stateless, he managed nonetheless to travel frequently. On a trip to Brazil in 1954, he wrote his memoirs of the time in the Buna/Monowitz concentration camp in Yiddish, ... און די וועלט האָט געשוויגן (…Un di velt hot geshvign; And the World Remained Silent), published in Buenos Aires in 1956; a revised and abridged version, La Nuit (Engl. Night, 1960), appeared in French in 1958 and made Wiesel well known as a writer. In the years that followed, he wrote numerous novels, essays, and journalistic pieces, as well as speeches and essays on Hasidic scholars and biblical subjects.
In Paris, Elie Wiesel had resumed his Talmudic studies for several years, guided by Mordechai Chouchani, and later, in New York, he studied with Saul Lieberman for many years. In 1955 he went to New York, where he was granted U.S. citizenship. He taught there for many years at the 92nd Street Y and devoted himself increasingly to writing, finally giving up journalism for good in the 1960s. In 1965 and 1966, Elie Wiesel went to Moscow, and under the impression of his visits to Jewish communities in the Soviet Union he began to speak out internationally in favor of allowing Soviet Jews to leave the country. In the following decades, he repeatedly took up the cause of persecuted groups in every corner of the world. The knowledge that many people in Europe and the United States had kept silent about the genocide of World War II b was a major factor in his decision to become an advocate for people who currently were being persecuted or threatened. As Elie Wiesel sees it, those who know but say nothing are also guilty.
In 1969, Elie Wiesel married Marion; Wiesel had met her and her daughter from a previous marriage, Jennifer, several years before through friends in New York. They had a son, Elisha. In 1978, President Jimmy Carter named Wiesel chairman of the President's Commission on the Holocaust, renamed the U.S. Holocaust Memorial Council in 1980, after a trip to the extermination sites in Poland and the Soviet Union. Wiesel retained his chairmanship until 1986, spearheading the building of a Holocaust museum in Washington, D.C. The United States Holocaust Memorial Museum opened in 1993.
From 1972 to 1976, he taught in the Jewish Studies program at the City University of New York, and in the 1982/83 academic year, he served as a visiting professor at Yale University. Since 1976 Elie Wiesel has held a professorship in philosophy and religion at Boston University. He has received numerous awards, including the Grand-Croix de la Légion d'honneur (1984), the United States Congressional Gold Medal (1985), and the Presidential Medal of Freedom (1992). In 1986, Elie Wiesel received the Nobel Peace Prize, and shortly thereafter he and Marion Wiesel established the Elie Wiesel Foundation for Humanity. c A main emphasis of the foundation's work is the Beit Tzipora Centers, named for Wiesel's youngest sister, who was murdered in Auschwitz; the two centers in Ashkelon and Kiryat Malachi provide support for Ethiopian Jewish youths in Israel.
In the United States in particular, Elie Wiesel has come to epitomize the efforts to commemorate the victims of the Holocaust. An iconographic survivor d , he has always emphasized that the Nazi policy of extermination focused on Jews and their culture. His writings, too, spring from a tradition of commemoration and remembrance that is largely derived from the Jewish religion. His work is relatively little known in Germany, and only a few of his writings have been translated into German.
Elie Wiesel lives in Connecticut.
(MN; transl. KL)