Friedrich Jähne (1879–1965)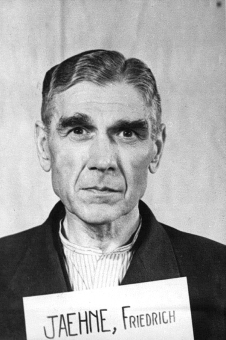 a The judges reasoned: "The hearing of evidence, however, has shown that Jähne was involved in certain negotiations with government offices which preceded the acquisition of the expropriated oxygen and acetylene plants in Alsace-Lorraine by Farben, and that he obtained, in these negotiations, agreement to the proposals of Farben. Jähne was informed in detail about the preceding crimes of spoliation committed by Farben in acquiring these plants, and he had consensual involvement in these offenses."
(Das Urteil im I.G.-Farben-Prozess. Der vollständige Wortlaut (Offenbach am Main: Bollwerk, 1948), p. 102. (Transl. KL))
"I can still recall the presentation on Auschwitz given by Dr. Ambros at the board meeting or in the TEA [Technischer Ausschuss = Technical Committee], in which he also mentioned the use of concentration camp prisoners. The board did not take any particular position on this problem, as it viewed the use of these people as unavoidable. Not one of the board members ever protested the employment of these people's labor."[1]
Friedrich Jähne was born in Neuss on October 24, 1879. He was the son of the photographer Gertmann Jähne and his wife, Anna Margaretha (née Kocks). After attending school in Neuss and Düsseldorf, he worked at the German shipbuilding company Kaiserliche Werft in Kiel. In 1900, while serving in the navy, Friedrich Jähne took part in the China expedition, in the bloody quashing of the Boxer Rebellion. In 1901, he entered the Technical University of Berlin-Charlottenburg to study engineering, and he received his degree in 1905. That same year, he accepted a position at Siemens-Schuckert in Berlin. In 1907, he went to Rheinsberg to work for Deutsche Solvay as a production engineer. In 1908, he joined the Chemische Fabrik Griesheim-Elektron as senior engineer, and in 1913 he changed jobs again, moving to Hönningen to become chief engineer at the Chemische Fabrik W. Feld.
There, interrupted by his naval service in World War I, Friedrich Jähne was employed until 1921, when he joined Bayer in Leverkusen to work as chief engineer and head of the workshops of the inorganic plants. He was promoted quickly at Bayer: in 1923, he was made an authorized signatory, and in 1928 he was named a deputy director of I.G. Farben. From 1931 on, Jähne was head of the Technical Committee of I.G. Farben. In 1933, he was transferred to Hoechst as director and chief of the Engineering Services Department. The following year, he became an alternate member of I.G. Farben's managing board, and in 1938, he was made a full member. He also joined the NSDAP in 1938. In 1943, he was named a "military economy leader" (Wehrwirtschaftsführer) and also was awarded the War Merit Cross 1st Class (Kriegsverdienstkreuz 1. Klasse). In 1941, he was in charge of modernizing and redesigning the Hoechst plant.
Arrested in 1947 by the U.S. Army, Friedrich Jähne was charged the same year with plundering and spoliation and was one of the defendants in the I.G. Farben Trial at Nuremberg. The following year, he was sentenced to eighteen months in prison for his participation in takeovers in Alsace-Lorraine. a From 1952 on, he was a member of the supervisory board of Farbwerke Hoechst and chairman of the supervisory board of Adolf Messer GmbH. In 1955, he assumed the chairmanship of the supervisory board of Hoechst, and in 1962, he was awarded the Bavarian Order of Merit (Bayerischer Verdienstorden); a request for its return was considered in 1964. In addition, he received the Great Cross of Merit with Star from the Federal Republic of Germany. Friedrich Jähne died in Munich on December 21, 1965.
(SP; transl. KL)