Dedication of the Memorial to the Murdered Jews of Hamburg in the Ohlsdorf Cemetery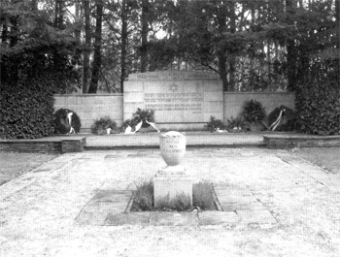 a "Was there not in all of us, when the barbed wire of the concentration camps fell for us and we could strip the chains of slavery from our battered limbs at last, the irrepressible hope and the deep belief that the suffering of those who were tortured would so shock the world, and the outrage at the torturers would be so enduring, that in this agonized and strife-torn world insight finally would triumph over fanaticism, reason over hate-filled rage, respect of one's fellow man over glorification of a category, and regard for the free individual would be deemed more sacred than appeal to the base instinct of the masses, when brazen-faced people proceed to mythicize the mass criminal and declare atonement for a mass murder without equal to be a violation of humanity. In this hour, the hour of remembering and honoring those six million innocent Jewish men, women, and children, therefore, it seems to me to be my duty to issue a serious warning to all those who believe they can make the world forget that there is no act without a perpetrator and no crime without a criminal. No right is divisible, just as no crime can be divisible. Neither new political constellations nor the passage of time can undo events of unparalleled atrocity."
(Norbert Wollheim's speech at the dedication of the memorial erected by the Jewish community of Hamburg at Ohlsdorf Cemetery on June 24, 1951. (Transl. KL))
The Jewish cemetery in the Hamburg district of Ohlsdorf was laid out in 1883. In 1943, it was closed, and temporary housing for refugees was built on the site. After 1945, the burial of the Jewish dead could be resumed.
On June 24, 1951, the memorial erected by Hamburg's Jewish community was dedicated. Since that time, a memorial stone with an inscription in Hebrew and German has served to commemorate the millions of Jewish victims of National Socialism. Norbert Wollheim, representing the Central Council of Jews in Germany, founded on July 19, 1950, gave a speech a at the dedication ceremony. In it, he reminded the living to be tolerant and reject any thought of exacting revenge on the perpetrators. Simultaneously he cautioned them against forgetting and warned of a looming resurgence of anti-Semitism and suffering. The memorial was intended, he said, to admonish those who "have incurred guilt by shedding the pure blood of the innocent", and also to remember those who never were given a burial place. Thus the memorial symbolizes a linking of past and future, a future in which the state of Israel, made possible only by the victims in the past, would signify safety and freedom for the Jewish population.
In 1957, an urn with the ashes of some who died at the Auschwitz concentration camp was added to the memorial.
(BG; transl. KL)