Heinrich Gattineau (1905–1985)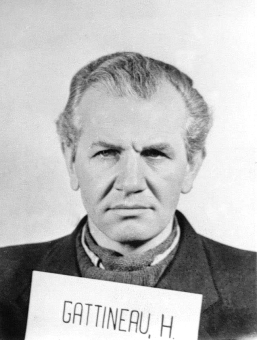 a "Hitler agreed that he would grant our gasoline production the necessary protection."
(Heinrich Gattineau, affidavit, March 13, 1947, NI-4833. Archive of the Fritz Bauer Institute, Subsequent Nuremberg Trials, Case VI, reel 016, pp. 227–232, here p. 231. (Transl. KL))
b
"Among other things it was the WIPO's job to keep in touch with the increasingly numerous government and semi-official offices. Among other things it was the WIPO's job to maintain contacts with the Foreign Organization of the NSDAP. We procured the political clearances from the A.O. [Foreign Organization] that were required for I.G. Farben enployees to leave the country."
(Heinrich Gattineau, affidavit, March 13, 1947, NI-4833. Archive of the Fritz Bauer Institute, Subsequent Nuremberg Trials, Case VI, reel 016, pp. 227–232, here p. 230. (Transl. KL))
Heinrich Gattineau was born on January 6, 1905, in Bucharest, where his father, Julius Gattineau, had taken up residence to practice dentistry. After attending school in Switzerland, he transferred to a Munich high school with an emphasis on science. Heinrich Gattineau was a track and field athlete, and in 1923 he joined the Freikorps unit known as Bund Oberland, a Bavarian precursor of the SA. Acquaintances with men who later became Nazi high officials dated from this period, and he was able to use these contacts to benefit I.G. Farben. He studied economics at the university and passed his diploma examination in 1925. In 1927, he received his doctoral degree, writing a dissertation on "The Significance of the Urbanization Process in Australia for the Future of the White Race." In 1929, he married Dr. Wera Fritzsche, and the couple had five children.
From January 1928 onwards, Heinrich Gattineau was employed at I.G. Farben, first as an assistant to Carl Duisberg, and after 1931 as head of the firm's commercial policy department and public relations office. In 1932, Heinrich Gattineau arranged a meeting between I.G. Farben representatives and Adolf Hitler, to emphasize to him the significance of synthetic gasoline production and obtain his agreement to support the company in this project a . He joined the SA in 1933 and acted as economic adviser to SA chief of staff Ernst Röhm. In the course of the suppression of the Röhm Putsch in 1934, Heinrich Gattineau was arrested; after his release he terminated his membership in the SA. Instead, he joined the NSDAP one year later, in 1935.
From 1933 to January 1938, Gattineau was chief of the Economic Policy Department of I.G. Farben's Berlin NW 7 office, where he was responsible for contacts with the government. b In 1938, he was named a director of I.G. Farben, a position he held until the end of the war.
In 1945, Gattineau was arrested by the U.S. Army and indicted in the I.G. Farben Trial in Nuremberg, but he was acquitted in 1948. Subsequently he was a member of numerous boards and supervisory councils, including those of WASAG Chemie-AG and Mitteldeutsche Sprengstoff-Werke GmbH. Heinrich Gattineau died on April 27, 1985.
(SP; transl. KL)