Henri Sonnenbluck (*1927)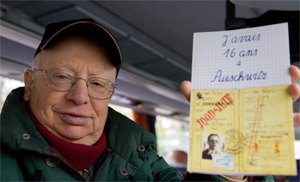 "I forget nothing. I forgive nothing."[1]
Henri Sonnenbluck was born in Borgerhout, Belgium, on July 20, 1927, the oldest son of the Polish immigrants Wolf Sonnenbluck and Chana Malka Insel, from Galicia. Henri Sonnenbluck was an avid reader. On vacation, the family often went to Middelkerk, a coastal town.
Henri Sonnenbluck attended the Jewish school in Antwerp/Anvers. As the only member of his family who spoke French, he had to take on the responsibility for many everyday tasks. When the German Wehrmacht attacked Belgium on May 10, 1940, the family fled to the Belgian coast and continued on to northern France; the authorities insisted that they return to Belgium. Henri Sonnenbluck, his brother Meir, and his parents went into hiding in Hoboken. On September 23, 1943, they were arrested and placed in prison in Antwerp/Anvers, where Henri Sonnenbluck spent six weeks locked in a shared cell. He never saw his father and his younger brother again. On the transport to Mechelen/Malines, he was reunited with his mother. In his nine weeks of imprisonment there, Henri Sonnenbluck came into contact with men who had fought in the International Brigades. When he was deported to Auschwitz on January 15, 1944, in the twenty-third transport, he smuggled in some tools for the resistance movement, to saw a hole in the railroad car during the journey and escape. Fellow passengers prevented the attempt out of fear of serious punishment.
In Auschwitz, during the selection process at the train station, Henri Sonnenbluck gave his age as 16 and thus was sent to the Buna/Monowitz concentration camp, where he received a tattoo identifying him as inmate 172,401. His mother was gassed immediately after arrival. He survived "by pure chance," as he himself acknowledges—because he was assigned to work with a civil engineer who gave him food on the sly and did not have him do heavy labor.
When the SS forced the prisoners to set out on the death march on January 18, 1945, Henri Sonnenbluck ended up at the Mauthausen concentration camp. In the final days of the war, in May 1945, the camp was "evacuated" to the forest. On May 5, 1945, the SS officers fled and left the prisoners behind. American soldiers found the group and took them to the sickbay. But despite his poor state of health, Henri Sonnenbluck wanted to return to Belgium immediately and arranged to be flown to Laon, in France. From there, he made his way to Charleville, to a repatriation center where he slowly regained his health. Only three weeks later, he boarded a train for Brussels, and at the railroad station he ran into the arms of his aunt, who had waited there daily, hoping for the return of members of her family.
After the war, Henri Sonnenbluck studied typography. He found temporary employment in a lawyer's office and simultaneously began setting up the Centrum van de populaire opleiding, a center for continuing education in Brussels. As this proved to be successful, he gave up his job with the lawyer.
Today Henri Sonnenbluck lives with his wife, Sarah (née Arbuz), in Brussels and speaks at public events as a contemporary witness, telling about the crimes at Auschwitz. In 1990, he published his memoirs, J'avais 16 ans à Auschwitz. The project known as Compagnons pour la mémoire conducted a seven-hour interview with Henri Sonnenbluck in 2005 to record his personal history, and it now can be viewed in the Work and Archive Room of the Wollheim Memorial and the Jewish Museum of Deportation and Resistance in Mechelen/Malines.
(SD; transl. KL)