Josef Windeck (1903–1977)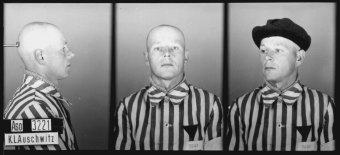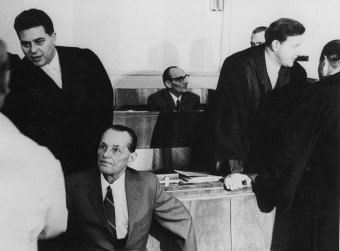 Josef Windeck, born in Rheydt in 1903, was the son of a construction worker. After finishing school in Mönchen-Gladbach, he also was employed as a construction worker. In the following years, he was sentenced several times for property offenses. In 1936, he was accused of having incited his colleagues to stop work at the construction site. He was arrested and confined as a political prisoner in the Esterwegen-Papenburg concentration camp, and then transferred by the SS to the Sachsenhausen concentration camp, from which he was released in the summer of 1937. In October 1937, Windeck was convicted of property offenses once again and sentenced to two and one-half years in prison. After serving the sentence, he was not released in March 1940 but was sent instead to the police prison in Düsseldorf. Then he was sent back to the Sachsenhausen concentration camp, and he was transferred from there to the Auschwitz concentration camp on August 29, 1940. He was assigned the prisoner number 3221.
First deployed as a Kapo with a black triangle ("antisocial individual"), he quickly rose to the position of camp Kapo. From April 1941 to spring 1942, with some interruptions due to the weather, he was Kapo of a work detachment for the construction of I.G. Farben's Buna plant. On October 28, 1942, the SS moved him with 600 prisoners to Monowitz. Windeck was placed in Block 4, where the camp office was located, and advanced to the position of camp elder. As the statements of former prisoners testify, Windeck mistreated numerous inmates in an extremely brutal, sadistic manner. Political prisoners succeeded in convicting Windeck of corruption, and in May 1943 they managed to get the SS to transfer him from the Buna/Monowitz concentration camp to the main camp. Windeck later was moved to Birkenau, where he once again, after only a few weeks, received the position of camp Kapo in the men's camp, Männerlager B II d. Late in the summer of 1944, he was transferred to the Ohrdruf concentration camp. Finally, in late 1944, he was sent to the Buchenwald concentration camp. In late December 1944, while being transported from Auschwitz back to the Sudetenland, he ran away not far from Bautzen. After his recapture, he had to serve in an infantry unit, and at the end of the war he fell into Soviet hands. In the Soviet Union, by his own account, he was sentenced to 25 years in a labor camp "for his activity at Auschwitz."
In 1955, Windeck returned to the Federal Republic of Germany, where he was arrested in 1963. After a year in pretrial detention, he was given a suspended sentence for reasons of health. In August 1966, the public prosecutor's office in Frankfurt am Main charged Windeck on 117 counts of murder of fellow prisoners. The regional court, Landgericht Frankfurt am Main, on June 1968 (third Frankfurt Auschwitz Trial) sentenced Windeck "on two murder counts to life imprisonment and on three counts of attempted murder, allowing credit for the pretrial detention and the forced labor in Russia, to a total of 15 years in prison."[1] After one year of imprisonment, Windeck's sentence was suspended in June 1969 for reasons of health. He died in Mönchen-Gladbach in July 1977.
(FS; transl. KL)