Aleksandar Ribner (1894–1945)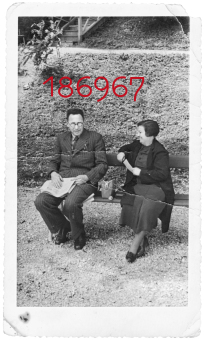 Aleksandar Ribner was born in Hotiza (in present-day Slovenia) in 1894, and his wife, Jelena (née Cigler), was born in Domašinec (now in Croatia) in 1898. Both birthplaces were located in the territory of the Austro-Hungarian Empire. Aleksandar Ribner served as a noncommissioned officer in the Austrian Army and fought in World War I. In Čakovec, a small provincial town in what today is Croatia, Aleksandar and Jelena Ribner met each other and married. The Ribners' firstborn, a daughter, died in 1930. In 1929, their son, Miroslav, was born. Aleksandar Ribner worked for a bank, and Jelena was employed as a stenotypist in a law office. The family regularly vacationed in Slovenia, at the health resorts of Rogaška Slatina or Dobrna, where the photograph of the couple on a park bench was taken. The Ribners spoke Croatian at home, and the parents also spoke Hungarian and German. The family was not very religious, and the Ribners went to synagogue only on the Jewish High Holy Days.
After the outbreak of war, Čakovec was occupied by Hungary. Until the spring of 1944, the family's life remained relatively unaffected. In April 1944, however, the father, mother, and son first were placed in a transit camp in the Hungarian town of Nagykanizsa and then deported from there to Auschwitz. Jelena Ribner was sent directly to the gas chamber, while Aleksandar and Miroslav were selected by the SS for forced labor in the Buna/Monowitz concentration camp. There they both had to work for I.G. Farben, and father and son were housed in the same barracks in the camp. In January 1945, still together, they were forced to take part in the death march. After various stops along the way, Miroslav Ribner finally ended up in Buchenwald, where he was liberated. Then he returned to Yugoslavia. Aleksandar Ribner did not survive the death march.
(GB; transl. KL)