Alexander Feingold (*1924)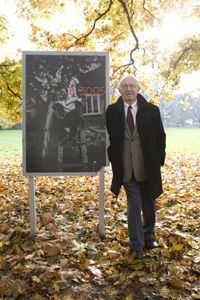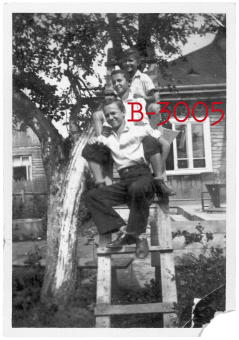 "I don't want to talk about it too much … I am glad I have it from my chest. It is very important that it is shown to future generations. I think it should be shown to people who are not Jewish… It did happen, and I was there to witness it."[1]
Alexander Feingold was born in Warsaw on September 25, 1924. His father, Aron Feingold, owned a factory that produced wooden articles, and his mother, Rachela, worked in the sales department. Alexander had two brothers: Joseph, who was older, and Henryk, younger. He himself first attended a Yiddish school in Warsaw, until the family moved to Kielce in 1932 and Alexander Feingold had to transfer to the Polish public school there. The only Jew in a class of 60 pupils, he often was called names by his classmates. His parents belonged to the Bund, and Alexander Feingold and his brothers were members of its youth organization. Bombs fell on Friday, September 1, 1939: Alexander, Joseph, and Aron Feingold first fled in the face of the German advance, but returned to Kielce some time later. The family was torn apart: His father was arrested, and Joseph escaped to the Soviet-occupied area. Alexander, with his mother and brother Henryk, was forced in spring 1941 to move into the ghetto in Kielce. Alexander Feingold was allowed to keep working in his father's former factory and thus had access to better food supplies.
His plans to join the Polish underground were betrayed in May 1943. Together with his cousin Leon, he was forced to work in a munitions factory. Both ran away, but no one helped them, and so they finally came back to Kielce. Later he learned that his mother and brother Henryk had been taken to Treblinka and murdered. In August 1944, the remaining inhabitants of the ghetto were deported to Auschwitz, and Alex and Leon were placed in the Buna/Monowitz concentration camp. Alexander Feingold was deployed to build air raid shelters, but he volunteered to defuse unexploded bombs, and received ample bread and tobacco in return. He always shared his rations with Leon.
The camp was vacated by the SS in January 1945. On the death march, the prisoners were transported in cattle cars through the annexed areas of Czechoslovakia and Austria to Germany. The concentration camps everywhere were filled to overflowing, and the prisoners were fed at most twice a week. Near Dresden they witnessed the mammoth bombing; weak though they were, they sang and danced at the sight. Alexander Feingold was put in a work detachment in Ellrich, a subcamp of the Mittelbau-Dora concentration camp, about 10 km (6 miles) from Nordhausen. Weakened by diarrhea, he was taken four weeks later to the Bergen-Belsen concentration camp, where he was freed by the British in April 1945, but remained in the hospital until February 1946.
Alexander Feingold moved to Frankfurt am Main, where he was reunited with his father and brother Joseph: both had returned from Siberia, been repatriated to Poland, and fled to Germany to escape the overt anti-Semitism. In 1947, Alexander Feingold emigrated to the United States, where he finished school, became an architect, and married in 1966. With his wife, Diana (née Coon), he has three sons. He never spoke about his experiences to his father and brother, who also came to the United States in the 1940s.
Alexander Feingold passed away on March 17, 2020 in New York City at the age of 95.
(SP; transl. KL)