Benjamin B. Ferencz (*1920)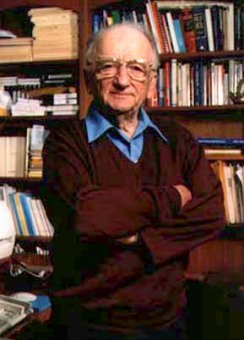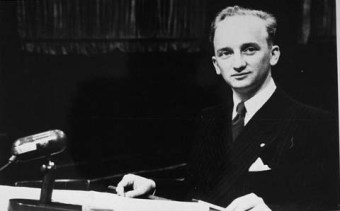 Benjamin Berell Ferencz was born on March 11, 1920, in Soncuta-Mare in Romania, the son of Joseph Ferencz and Sarah Ferencz (née Legman Schwartz). His family emigrated to New York before he was one year old. Ferencz attended the City College of New York until 1940 and then studied at Harvard Law School. Even during his days in law school, as a research assistant to criminologist Sheldon Glueck, he was involved in documenting German war crimes. After graduating from Harvard in 1943, Ferencz took part in the invasion of Normandy in 1944. Transferred to the War Crimes Branch of the U.S. Army, he collected evidence for the Nazis' crimes and gathered information in the liberated concentration camps of Buchenwald, Mauthausen, and Dachau. He was discharged from the Army at Christmas 1945 (with the rank of sergeant). In the trial of 24 former members of the Einsatzgruppen, Case IX of the Subsequent Nuremberg Trials (1947–48), Ferencz served as chief prosecutor.
In 1948, he was appointed director general of the Jewish Restitution Successor Organization (JRSO), which sought to provide evidence and force the return of Jewish property expropriated by the Nazis, on the basis of the restitution laws enacted by the American military government. Ferencz became director of the Conference on Jewish Material Claims against Germany in 1952, and shortly thereafter was named director of the United Restitution Organization (URO), founded in 1948. That same year, he represented the JRSO in the reparations negotiations between the Federal Republic of Germany and the state of Israel, which culminated in the Luxembourg Agreement of September 1952.
In the 1950s, Ferencz worked to obtain compensation payments by German commercial enterprises to surviving concentration camp prisoners in return for the slave labor they had performed. The point of departure was the civil suit brought by Norbert Wollheim against I.G. Farbenindustrie in Liquidation. Ferencz participated in the negotiation of the out-of-court settlement reached among I.G. Farbenindustrie i.L., the Claims Conference, and Norbert Wollheim. In the following years, he supported additional claims for compensation payments brought by former concentration camp prisoners. Payments were arranged with the German arms manufacturers Krupp, AEG, Telefunken, Siemens, and Rheinmetall. Friedrich Karl Flick, however, successfully prevented payment of any kind of compensation by his concern.
Ferencz's book Less Than Slaves: Jewish Forced Labor and the Quest for Compensation, published in 1979 (appearing in German as Lohn des Grauens, 1981), and dealing with the long-lasting legal disputes and compensation negotations with German business was the first, trail-blazing presentation of this topic. It was made familiar to a broader audience by a documentary film made by Lea Rosh, "Vernichtung durch Arbeit" – KZ-Häftlinge: Sklaven für die deutsche Industrie (ARD, initially broadcast on November 4, 1984). In 1988, Ferencz cofounded the peace organization Pace Peace Center. From 1985 to 1996, he was adjunct professor of international law at Pace University in New York, and today he lives with his wife, Gertrude, in New Rochelle, NY.
(FS; transl. KL)