Ernst Frankenthal (1924–1993)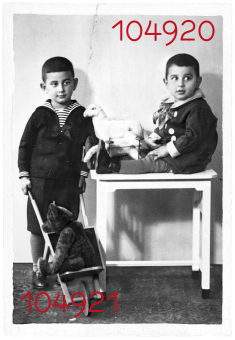 a His brother Hans said later: "After liberation Ernst and I returned to the town of our childhood, Schmallenberg. We had complied with our father's wishes. Even now I can hear the words he spoke to us on the loading platform at Auschwitz: 'I won't survive this; I'm too old. If the two of you do, go back to Schmallenberg.' For many, many years afterward I cursed those words."
(Hans Frankenthal: The Unwelcome One: Returning Home from Auschwitz. In collaboration with Andreas Plake, Babette Quinkert, and Florian Schmaltz (Evanston IL: Northwestern University Press, 2002), p. 75.)
Ernst Frankenthal was born in Schmallenberg in the Sauerland on July 18, 1924, the first son of Max and Adele Frankenthal. Two years later, his brother, Hans Frankenthal, was born. Their father was a livestock dealer, and their mother looked after the house and children. The brothers' life was played out between school, farmyard, and local associations, and the family was respected in the town. After power passed to the National Socialists in January 1933, restrictions increasingly affected the Frankenthals' life, and the boycott of Jewish businesses on April 1, 1933, dealt a hard blow to the father's livestock trade. "Proud to be a German Jew"[1] and a veteran of World War I, he still believed that nothing would happen to him. On November 10, 1938, Max Frankenthal was arrested by the Gestapo. His wife was forced to "sell" the family's property to Nazis of proven loyalty. Max Frankenthal returned from the concentration camp a broken man. In summer 1939, the Frankenthals had to leave their "Aryanized" house and move to the cramped quarters of a so-called "Jews' house" in Schmallenberg.
In summer 1940, Ernst Frankenthal had to leave school at the age of 16. He trained as a locksmith in Dortmund until the trade school was closed. Then, together with his father and his brother, Hans, he was made to do heavy labor, building roads, with inadequate food and poor accommodations. On February 26, 1943, the brothers were instucted to appear at the Gestapo office in Dortmund. There, the following day, Hans and Ernst Frankenthal saw their parents again and were led through Dortmund in broad daylight and deported to Auschwitz in cattle cars. Upon arrival, on March 1, 1943, the SS selected only the two sons for forced labor in the Buna/Monowitz concentration camp; the parents were killed in the gas chambers of Birkenau right after their arrival. The father's last words were, "I won't survive this; I'm too old. If the two of you do, go back to Schmallenberg."[2]
Because of his training as a locksmith, Ernst Frankenthal was assigned to work on building the plant's supporting structure, putting steel girders in place. He developed jaundice in August 1943 and was treated in the prisoner infirmary. Hans, his brother, warned him in time of an upcoming selection and thus saved his life. On January 18, 1945, Ernst Frankenthal, along with Hans and thousands of other prisoners, was forced to go on the death march. In the Mittelbau-Dora concentration camp, he had to work in arms production. On April 3, 1945, he and Hans managed to escape after an Allied airstrike, but they were caught three days later, handed over to the Gestapo, and put in the concentration camp for I.G. Farben's plant in Leuna. They were deported again from there in mid-April. After a further transport to the Theresienstadt concentration camp, Ernst Frankenthal was liberated there by the Red Army.
Abiding by their father's wish, the brothers Ernst and Hans Frankenthal returned to Schmallenberg. a The postwar years were difficult, in part because the citizens of Schmallenberg were unwilling to hear anything about the extermination of Europe's Jews and did not believe the stories they were told now and then. Ernst Frankenthal married the love of his youth, Margot Menzel, a survivor of the concentration camps, and they had two children. The couple moved in 1953 to Münster, where he first ran a delicatessen store, and later a tobacco store. Only rarely did Ernst Frankenthal speak about his imprisonment in the camps. He died in 1993.
(SP; transl. KL)