Gerhard Neubert (1909–1993)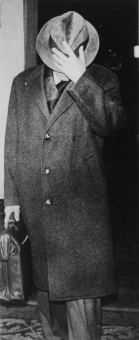 Gerhard Neubert, born in Johanngeorgenstadt in the Erzgebirge region on June 12, 1909, completed an apprenticeship as a piano maker in 1927 by passing the journeyman's certification exam. After moving to Diepholz in Lower Saxony in 1931, he worked in a managerial position in a furniture factory. Neubert married in 1934. In May 1940, he was inducted into the Waffen-SS and did his basic training with the "Ostmark" Regiment of the SS in Prague. Subsequently he was stationed in the occupied Netherlands for one year and then was in combat on the eastern front. After home leave in the summer of 1942, Neubert went to the assembly place at Cracow to rejoin his unit, but it had been decimated by heavy casualties. He then was ordered to report to the Auschwitz concentration camp.
He did guard duty temporarily, and then operated the steam generator for the disinfection chambers, undergoing training in both disinfection procedures and nursing care. As of early 1943, he was deployed as an SS medical orderly (SDG, Sanitätsdienstgrad) in the prisoner infirmary (HKB, Häftlingskrankenbau) at the Buna/Monowitz concentration camp and was a participant in selections in the HKB. Sick, debilitated, emaciated prisoners who were classified by the SS as no longer "fit for work" were transferred to the Birkenau extermination camp and murdered. After the camp was disbanded in January 1945, he was assigned to duty in the Buchenwald, Nordhausen, and Neuengamme concentration camps. In Schleswig-Holstein, Neubert was taken prisoner by the British Army, but was released ten weeks later. Gerhard Neubert returned to Diepholz, where he found work as a farm laborer, carpenter, and foreman.
From October 1958 to December 1963, he was employed by the military base administration (StOV) of a Bundeswehr unit, and after that Neubert returned to the furniture factory where he had worked before the war. Neubert was not placed in pretrial detention in the course of the Auschwitz Trial. Because of the defendant's illness, the court severed his case in late July 1964. In the second Frankfurt Auschwitz Trial (December 14, 1965, to September 16, 1966), after being placed in pretrial detention in early January 1966, he was tried once again and sentenced to three and one-half years in prison as a joint accessory to murder on 35 counts. In late January 1971, Neubert was released from prison on parole. He died in Diepholz in 1993.
(WR; transl. KL)