Henry Ormond (1901–1973)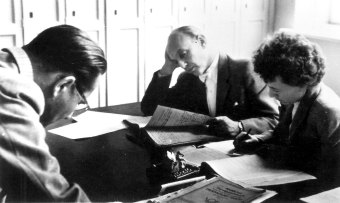 Henry Ormond, the former Hans Ludwig Jacobsohn (after 1920, named H. L. Oettinger), was born in Kassel on May 27, 1901, went to school in Mannheim, and graduated from high school there in 1919. He studied law in Heidelberg and Berlin and passed the state examinations to qualify as a member of the bar in 1926. He began work at the Mannheim Local District Court (Amtsgericht). In May 1933, the National Socialists forced Ormond "into retirement" on the basis of the Law for the Reconstruction of the Professional Civil Service, as he was a public servant "of non-Aryan origin." Now unemployed, Ormond found work with a coal wholesaler in Frankfurt. His employer, Hugo Nirmaier, was an opponent of the Nazis and managed to keep Ormond on until 1938, when he was compelled to let him go.
Three days after the Night of Broken Glass (Reichspogromnacht), November 9–10, 1938, the Gestapo arrested him in the course of the intensified anti-Semitic persecutions and took him to the Dachau concentration camp. In mid-March 1939, the SS released the prisoner, now physically injured, with both hands affected by frostbite, on condition that he prepare to emigrate. In June 1939, Ormond made his way via Switzerland to Great Britain. Classified as an "enemy alien," he was interned and set free only 14 months later. Ormond joined the British Army in July 1941 and performed army engineering, guard, and clerical duties in England. In July 1943, he adopted the name Henry Lewis Ormond. Ormond was transferred to France in August 1944. He came to occupied Germany (British zone) as a member of an Information Control Unit and took part in founding the weekly magazine Der Spiegel. In 1950, he set up a law office in Frankfurt am Main. His practice centered on the compensation and restitution lawsuits involving victims of Nazism and on the prosecution of the Nazi perpetrators. He represented Norbert Wollheim in his suit against I.G. Farben seeking reimbursement for withheld wages and compensation for damages. In numerous criminal proceedings, Ormond appeared as the attorney for joint plaintiffs (victims of Nazism or their relatives). For example, in the first Frankfurt Auschwitz trial (1963–1965), he represented 15 joint plaintiffs.
Ormond's desire was to give the victims a voice in the trials, on the basis of law and justice, out of a yearning for equity and atonement. As an "honest lawyer" and "Germany's legal conscience," Ormond enjoyed a professional reputation that extended beyond the frontiers of the Federal Republic. In addition to his work as an advocate for victims of Nazism, he was active in aid organizations for Israel. Ormond died in the courtroom in 1973 after suffering a heart attack.
(WR; transl. KL)