Idar Paltiel (1919–1943)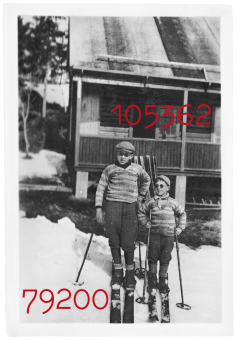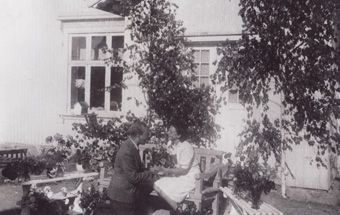 "For the first time we meet some of the 530 Jews who were deported from Norway on November 26 of last year. Only 10 men are still alive. They look wretched. Thin, pale, underfed, and tired to death. My brother Idar is not among them. I ask about him. – In the chimney… I don't understand the answer. – He was gassed! Slowly I comprehend the horror[…] I actually don't understand what is meant by 'gassed,' I've never heard of it. Killed by gassing! But I understand that Idar is dead."[1]
Idar Paltiel, the first son of businessman Salomon Paltiel and his wife, Kaja, was born in Trondheim, Norway, on May 24, 1919. His younger brother, Julius, was born six years later. The brothers had a happy childhood, characterized by ski touring and hiking in the surrounding countryside. Idar attended the commercial high school, while Julius was supposed to be trained as a tailor, so that the brothers could run a joint factory. After their father's death in 1935, the king of Norway granted Idar Paltiel special permission to continue running his father's business, though he was only 16. With the invasion of the Wehrmacht in April 1940, the situation became increasingly difficult for Jews in Norway as well. The business had to be handed over to a Norwegian trustee.
Idar Paltiel, who suffered from gout, had gone to stay with his fiancée, Marie Sachnowitz, and her family on their farm near Larvik to convalesce in October 1942. Thus he escaped arrest when the Norwegian police came to pick up his brother, Julius, in Trondheim on October 6; along with the Sachnowitz family, he fell into the Gestapo's hands on October 26, 1942.
On November 26, 1942, he was on the first deportation ship from Norway, MS Donau; on board with him were his fiancée Marie and her family. His brother Julius and his mother remained in Norway until February 24, 1943, and then they too were deported to Auschwitz. Idar Paltiel never saw them again. On December 2, 1942, with other men selected for forced labor, he entered the Buna/Monowitz concentration camp. Marie Sachnowitz was gassed on December 1, 1942, shortly after arriving at the Auschwitz concentration camp. Idar Paltiel injured his foot during the winter and presented himself in the infirmary to have it treated. On February 13, 1943, the SS sent him from there to the gas chamber in Birkenau; he was 23 years old.
(SP; transl. KL)