Max Kimmelstiel (1920–1944)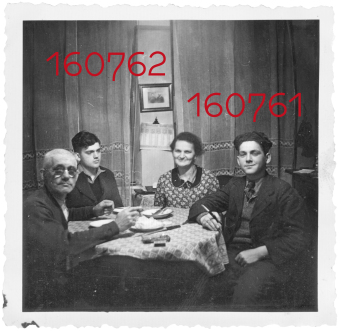 Max Kimmelstiel was born in 1920; he was congenitally deaf. Together with his parents, Karoline (née Reinhold) and Fritz Kimmelstiel, and his two brothers, Justin and Albert Kimmelstiel, he lived in Forth in the Franconia region, where the family had made its home for many generations. His mother ran a household goods store, and his father was a cattle dealer. From 1926 to 1936, Max Kimmelstiel attended a Jewish school for the deaf and mute, the Israelitische Taubstummenanstalt in Berlin. With Hitler's seizure of power, the financial situation became more difficult, and following Julius Streicher's delivery of an anti-Semitic diatribe in the town in 1935, the family was ostracized in Forth. Only the Kimmelstiels' domestic helper offered them food and her entire savings. In 1936 Justin, the oldest brother, managed to emigrate to Argentina. The rest of the family could not join him there because Max's deafness would have kept him from being granted an entry visa. After returning to his family from the Berlin school, Max Kimmelstiel began a tailor's apprenticeship. In 1938, the Kimmelstiels had to sell their house in Forth and move to Nuremberg, where Albert already had been attending school. Max Kimmelstiel had always enjoyed going to the movies, to the silent films, and did not understand why he suddenly was not allowed to do so.
The Kimmelstiel family was deported on November 29, 1941, and after a stay at the Langwasser transit camp, they arrived at the Jungfernhof concentration camp near Riga in December 1941. The parents were taken away on March 26, 1942, and his mother's last words to Albert were "Take care of Max!" The SS shot Fritz and Karoline Kimmelstiel in a forest near Jungfernhof. Max and Albert had to do forced labor in agriculture until they were sent to the Riga ghetto in September 1943. From there, the SS deported the brothers in cattle cars to Auschwitz in November 1943, giving each one a loaf of bread and a little water for the three-day journey. After four weeks of quarantine in Auschwitz-Birkenau, Max and Albert were placed in the Buna/Monowitz concentration camp. Albert Kimmelstiel worked in the fitters' and locksmiths' detachment and met Norbert Wollheim, who helped him get his brother Max out of an external work detachment: Unable to hear the march tunes, Max Kimmelstiel was constantly beaten for being out of step in the column of prisoners marching to and from work. From then on, he worked in the camp kitchen. On March 21, 1944, the SS selected all the deaf prisoners in the Buna/Monowitz concentration camp, including Max Kimmelstiel, and murdered them in the gas chambers at Birkenau. Albert Kimmelstiel survived Buna/Monowitz and emigrated to the United States in 1947.
(MN; transl. KL)