Survivors' Meeting in 2004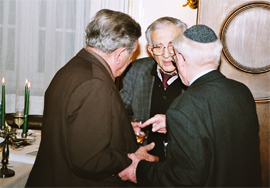 The Fritz Bauer Institute and the Initiative of Students in the I.G. Farben Building (Initiative Studierender im I.G. Farben-Haus) invited survivors of the Buna/Monowitz concentration camp to a second meeting, from March 23 to 27, 2004. The first gathering had taken place in 1998. One goal was to give the survivors another opportunity to get together in a fairly large group. Many saw each other here for the first time since the 1998 gathering. Another of the goals was to arrange meetings with school pupils once again.
Eighty guests, most accompanied by their wives or children, came to Frankfurt, traveling from Israel, the United States, Hungary, France, Great Britain, Germany, Austria, and Norway. Among them were some survivors whose addresses the organizers had obtained only shortly before: survivors from the Greek Jewish communities, in particular, were in Frankfurt for the first time.
Many of the guests spoke in smaller groups that met on two mornings and included a total of 400 schoolchildren. They talked about their imprisonment in the camp, the fate of their families, and their lives after the war. Most of the survivors participating in the talks viewed these contemporary-witness conversations as their duty, seeing the associated warning against a repetition of the Holocaust as their obligation to the victims.
In addition to fringe events, also including the opening of an exhibition on the first Frankfurt Auschwitz Trial, put together by the Fritz Bauer Institute, there were opportunities for many of the survivors to share experiences. Many participated in a ceremony for the three Jewish resistance fighters who were hanged, Janek Groszek, Nathan Weissmann, and Leo Diament. Led by Rudy Kennedy and Freddie Knoller in a campaign that received press attention, some called publicly for the money still in the possession of I.G. Farben in Liquidation to be paid to the survivors.
Many saw the parting as their final one; those who lived far apart and had not maintained friendships over the years did not expect to see the others again. Since leaving Frankfurt, many of the participants in the meeting have passed away.
(SP; transl. KL)