The Arrest of Bernhard Rakers and the Subsequent Preliminary Investigation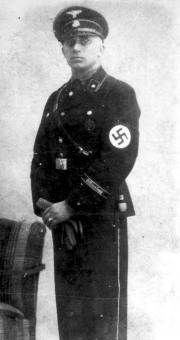 The first legal action against an Auschwitz offender before a Federal German court was the trial of Bernhard Rakers (1905–1980) in the Osnabrück regional court (Landgericht) in 1952 and 1953.
Rakers had been a detachment leader and roll-call leader in the Buna/Monowitz concentration camp in the years 1942–1945. In this case, it was not the investigative efforts of the Federal German law enforcement authorities that resulted in the Nazi criminal's arrest; the credit for that belonged to the "prosecuting attorney Coincidence."[1] A survivor of the Neuengamme concentration camp, Hermann Schäfer, chanced to overhear a conversation in front of his house in Lingen on the river Ems. In the noisy discussion between two passersby, an SS man named Rakers and his actions in the Sachsenhausen concentration camp were mentioned. The earwitness believed he knew the man named from the Neuengamme concentration camp. His interest aroused, the former concentration camp prisoner questioned one of the two pedestrians, a former Sachsenhausen inmate, and learned that they had indeed been talking about Bernhard Rakers, once a concentration camp guard. He also was told that Rakers was working for a local master baker. The earwitness immediately went to look for Rakers at his place of work, identified him, and reported him to the Lingen police. He accused Rakers of having participated in the shooting of an allegedly mutinous German submarine crew in Neuengamme.[2] Rakers was taken into custody that very day, on July 24, 1950. The county court in Lingen on the Ems issued an arrest warrant the following day. The preliminary investigation that was instituted was pending in the public prosecutor's office for the Osnabrück regional court under reference number 4 Js 491/50.
The Lingen CID's investigation of Rakers was limited at first to crimes in the Esterwegen and Sachsenhausen concentration camps. In August 1950, Norbert Wollheim got in touch with the Lingen CID and provided information about Rakers's crimes in the Buna/Monowitz concentration camp. Questioned by police in his Lübeck apartment on August 31, 1950, Wollheim gave the names and addresses of six other Auschwitz survivors, including Curt Posener (Lübeck), Heinz Galinski (Berlin), and Gustav Herzog (Vienna). Wollheim had alerted some of his "comrades" beforehand, so that two other witnesses could be questioned by the Lingen CID on the same day as Wollheim.[3] Because of Wollheim and the witnesses he suggested, the available evidence improved substantially. Curt Posener in particular provided the names and places of residence of more than 20 Auschwitz survivors. As a result, the focus of the Rakers trial shifted to the murders he committed at Auschwitz.
(WR; transl. KL)