Victor "Young" Perez (1911–1945)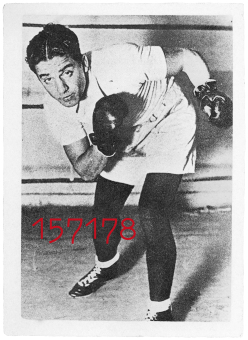 Victor Perez was born in 1911 in what was still the French colony of Tunisia, the son of Khmaïssa Perez and Khaïlou René Perez. His father worked as a salesman of household goods in a small shop. Along with four siblings, he grew up in modest circumstances in Dar-El Berdgana, a Jewish quarter of Tunis. Even as a child, he wanted only one thing: to emulate his Senegalese idol Louis Phal, "Battling Siki," and win the world boxing championship. At the age of 14, he started training, along with his older brother Benjamin "Kid" Perez, in the Makkabi organization, and two years later he won his first officially staged fight.
Victor "Young" Perez left Tunis in 1927 to continue his career in Paris. There he met Joe Guez, who became his trainer. In 1930, he won the French championship in the flyweight class, defeating Kid Oliva from Marseille. On October 24, 1931, in a match against the American Franckie Genaro, he won the flyweight world championship and became the youngest world champion in boxing history. Intoxicated by success, he began to lead a dissolute life, fell in love with the actress Mireille Balin, and neglected his training, which resulted in his loss of the title to Jackie Brown only one year later. After switching to the bantamweight class, Young Perez was unable to repeat his athletic successes.
Despite the growing anti-Semitism in Paris, he thought he was safe – he even went to Berlin for a match in November 1938. When Paris was occupied by the German army in 1940, he tried to escape, along with a friend, but then returned to Paris. On September 21, 1943, he was arrested on the basis of a denunciation, deported from Drancy to Auschwitz in Transport 60, and placed in the Buna/Monowitz concentration camp. At first the SS permitted him to train a little, to use him in a show match for their amusement, but after this fight against an SS man he got the same treatment as all the other prisoners.
Victor "Young" Perez died on the death march on January 22, 1945; probably he was shot because of an attempted escape or died of complete exhaustion. He was 33 years old.
The Institut National des Sports in Paris named its boxing arena after Victor "Young" Perez and put up a plaque in his memory in 1997.
(SD; transl. KL)