Walther Dürrfeld (1899–1967)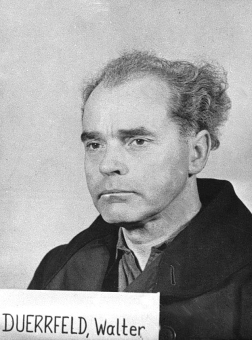 a "In particular, the increased use of disciplinary measures, the systematic policing, and the exchange of exhausted prisoners for 'new' ones—which proved fatal for many—trace back to the personal intervention of Dürrfeld."
(Bernd C. Wagner: IG Auschwitz. Zwangsarbeit und Vernichtung von Häftlingen des Lagers Monowitz 1941–1945 (Munich: Saur, 2000), p. 291. (Transl. KL))
b
Salomon Kohn, a survivor of the Buna/Monowitz concentration camp, stated: "Moreover, I.G. was also informed about the bad conditions in Monovice through the plant management's personal visits to the camp for the purpose of selecting skilled workers for labor gangs. I personally have seen DUERRFELD at the gate several times, as he watched the inmates marching out; he would be in the company of SS-Hauptsturmfuehrer SCHWARZ [the camp commandant], SS-Obersturmfuehrer SCHOETTL [the camp leader] and Hauptscharfuehrer RAKERS [the roll-call leader] [...] I.G. Farben had employees who acted as supervisors. The supervisors went from one place of work to another and informed themselves about the work output. They reported any inmate who, in their opinion, did not work hard enough, or spent too much time in the toilet, or warmed up at the stove. These reports came before the plant management of I.G., who passed them on to the camp administration."
(Salomon Kohn, affidavit, May 29, 1947, NI-10824. Archive of the Fritz Bauer Institute, Subsequent Nuremberg Trials, Case VI, PDB 75 (e), pp. 163–167, here pp. 164–165.)
c
Dürrfeld stated for the record: "I never was aware of any removal of prisoners for the purpose of their extermination as unfit for work. […] If one replaces the words 'removal of prisoners unfit for work' with the phrase 'replacement of prisoners unfit for work with others who were fit,' then there really can't even be any question of it, because I could not monitor whether and how many prisoners were sent to the main camp each time, with other prisoners coming to Monowitz in their place. You see, in terms of work we were on a constantly ascending curve of deployment of prisoners [...] It never became known to me that such sick people who were transferred from Monowitz back to Auschwitz fell victim to extermination."
(Walther Dürrfeld, examination by public prosecutors, April 9, 1965, Auschwitz Trial, StA Frankfurt am Main, 4 Ks 2/63, Vol. 94, pp. 18906–18911, here p. 18908. (Transl. KL))
d
Rudolf Höss said the following about Dürrfeld in a statement made before his execution: "He was the temporary director of Buna in Auschwitz up to the completion of the plant. All matters regarding administration, construction, and machinery were submitted to him. He also visited camp Auschwitz personally. He knew about the gassing of people in Birkenau and was worried about how to explain these dreadful things to his colleagues and subordinates. Dr. DUERRFELD, just as other plant directors, was responsible in the same measure for the bad treatment of the internees, as I as Commandant of the Concentration Camp had been for the excesses of the last noncommissioned officer."
(Rudolf Höss, affidavit, May 20, 1946, NI-034. Archive of the Fritz Bauer Institute, Subsequent Nuremberg Trials, Case VI, PDB 72 (e), pp. 78–87, here p. 84.)
e
The verdict in the I.G. Farben Trial at Nuremberg contains the following: "Examination of the cases of Auschwitz and Fürstengrube has convinced us of the direct criminal liability of the defendants Dürrfeld, Ambros, and Bütefisch."
(Das Urteil im I.G.-Farben-Prozess. Der vollständige Wortlaut (Offenbach am Main: Bollwerk, 1948), p. 130. (Transl. KL))
"One thing is certain: the longer prisoners were used in our operations, the more their state of health improved."[1]
Walther Dürrfeld was born in Saarbrücken on June 24, 1899. After graduating from high school, he was drafted for military service in 1917 and discharged in 1918. After World War I, Walther Dürrfeld completed an apprenticeship in metal working and then studied mechanical engineering in Aachen from 1919 to 1923. He received his doctorate in engineering in 1927 after interrupting his studies for two years to work as a production engineer. That same year he accepted employment with I.G. Farben's Leuna plants. In 1932, he was promoted to head of the workshops for the entire high-pressure chemicals division. In 1934, he joined the Deutsche Arbeitsfront (German Labor Front), and in 1937 he became an NSDAP member and, as an "old pre-1933 glider-pilot instructor,"[2] he was named a Hauptsturmführer (equivalent of a captain) in the NS-Fliegerkorps (National Socialist Flying Corps).
In 1941, Dürrfeld was promoted and made an authorized signatory; Otto Ambros and Heinrich Bütefisch appointed him to serve as technical manager of plant construction for I.G. Auschwitz, and in 1944 he became the facility's director and provisional plant manager. His former employees described him in their statements before the Frankfurt Regional Court (Landgericht)in the Wollheim lawsuit as a "person who championed all the concerns of the workforce, regardless of the individual's position."[3] His interest in the prisoners, however, was purely economic in nature; he negotiated in person with the commandant of the Auschwitz concentration camp, Rudolf Höss, for allocation of as many workers as possible a . According to the statements of former prisoners, Dürrfeld himself even took part in selections of prisoners who were no longer fit for work b . Walther Dürrfeld visited the Buna/Monowitz concentration camp itself five to 10 times, and he "lived with his family in the vicinity of Auschwitz."[4] In his free time, he went on hunting trips together with the commandant of Auschwitz, Rudolf Höss. Dürrfeld claimed to have known nothing about selections and gassings c , though Höss incriminated him d . After the plant grounds were vacated on January 21, 1945, Walther Dürrfeld made his way to Pirna in Saxony. In flight from the Red Army, he finally returned to West Germany, where he was arrested by American MPs in November 1945 and indicted in the I.G. Farben Trial in Nuremberg. In the decision rendered on July 29 and 30, 1948, he was sentenced to eight years in prison for enslavement and mass murder e . The amnesty granted by John McCloy, U.S. High Commissioner in Germany, led to his early release from prison in 1951.
Walther Dürrfeld was unable to take the position initially promised him at Hoechst, owing to his anticipated prominent role in the incipient Wollheim lawsuit. He then became a member of the management board of Scholven-Chemie AG in Gelsenkirchen-Buer, the supervisory board of Phenolchemie GmbH in Gladbeck in Westphalia, and the supervisory board of Friesecke & Hoepfner GmbH in Erlangen. In the first Frankfurt Auschwitz Trial, no proceedings against him were initiated because of the provisions of the Transition Agreement. Walther Dürrfeld died in 1967.
(SP; transl. KL)
Defendant Walther Dürrfeld's Slide Show at the I.G. Farben Trial